Highrise Networks takes traditional networking to the next level, elevating your ability to build relationships, expand your network, and collaborate with other senior-level professionals.
Does this sound like you? Schedule a quick chat today to learn more about Highrise Networks, the cost, and benefits of Membership, and to determine if we are the right fit in helping you catapult your business to the next level.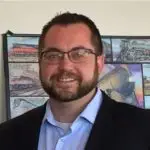 Steve is a sales professional with over 15 years of experience.  In his most recent role he was a branch manager for a major financial institution in his area.  His primary areas of focus were customer satisfaction and client growth and retention.  In this role, he helped clients find solutions to obtaining their financial goals through the use of in-depth, needs based conversations.  He was also fortunate enough to interact with heads of corporations and business owners to help them achieve their long term financial objectives.  As a VP of Membership, Steve is responsible for interviewing prospective Members and finding the group where they can bring the most value, and receive the most benefit.  In his free time he enjoys spending time with his wife and three kids, and the occasional round of golf.