Highrise Networks takes traditional networking to the next level, elevating your ability to build relationships, expand your network, and collaborate with other high-level professionals.
Does this sound like you? Schedule a quick chat today to learn more about Highrise Networks, the cost, and benefits of Membership, and to determine if we are the right fit in helping you catapult your business to the next level.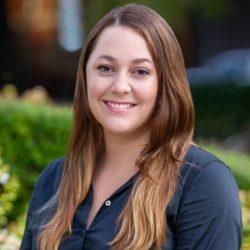 Siera Shoemaker
VP of Membership
Siera Shoemaker has over ten years of experience in corporate banking and wealth management. Siera spent a number of years quarterbacking credit and treasury management relationships in the Wells Fargo Oil & Gas space for large domestic and international clients. Her experience highlights her ability to bring people together to solve problems and generate successful business. She is a natural connector and enjoys finding the perfect Highrise group for new members coming aboard. Siera was born and raised in Houston, TX but fell in love with New Orleans and moved to the city in 2018. She volunteers with a Hogs for the Cause cookoff team, one of the nation's leading fundraisers for pediatric cancer. Siera also enjoys playing tennis, traveling and enjoying all the great food New Orleans has to offer.
Select a time from the schedule to speak with our VP of Membership, Siera.